The Documentary Film – "Voices of Grief, Honoring the Scared Journey" - shares a fresh perspective on the many ways we navigate successfully through grief or companion others along their journey. Wisdom from contemporary authors, grief experts and spiritual teachers is woven through personal stories of loss to explore the roles of compassion, community, and connection in this sacred journey.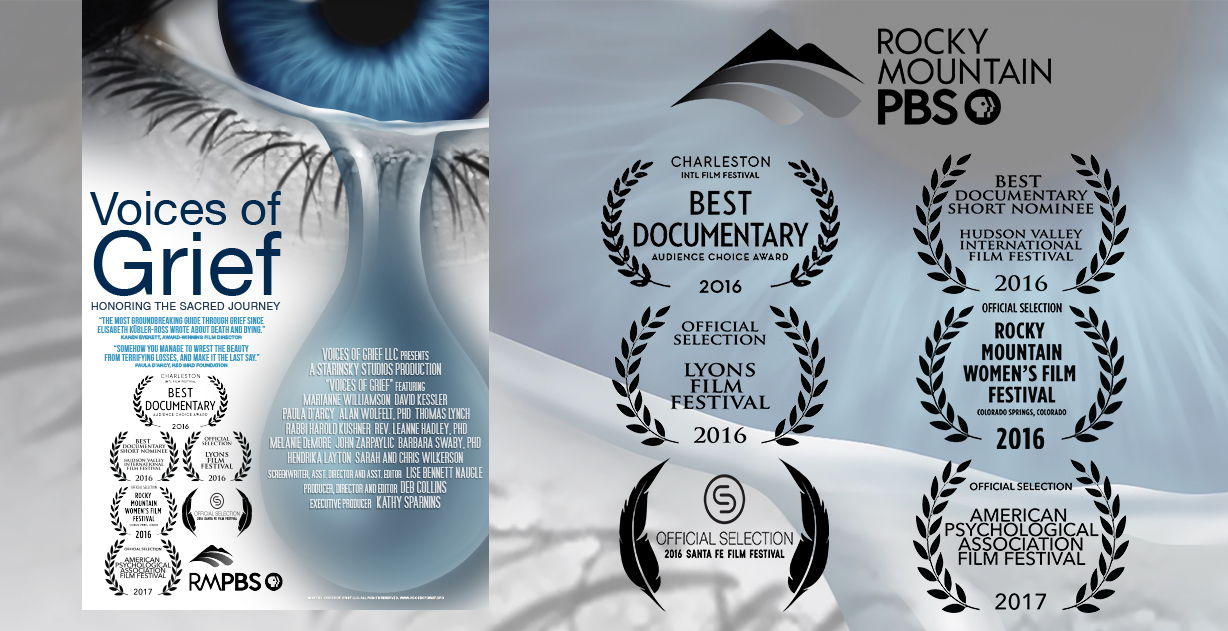 Your tax-deductible donation helps us build supportive communities that honor each individual grief journey. Any amount helps. Together, we can directly reach even more communities.
Why we made Voices of Grief?
For those who have ever struggled in knowing what to say or do in the presence of profound loss—your own or someone else's, the film, "Voices of Grief: Honoring the Sacred Journey" and accompanying facilitator guides offer a hope-filled new perspective of how to successfully navigate grief, a common reality of the shared human experience.
Our community outreach approach is to partner with hospices, senior living communities, and faith organizations nationwide to build supportive communities that honor each individual grief journey.
Film benefits at the personal level:
Inspires individuals to engage in intentional, thoughtful approaches to the grief process.

Offers hope for a meaningful life beyond profound loss.

Encourages a sense of spirit and deeper compassion for themselves and their friends and family experiencing loss.
Film-based educational benefits for caregivers:
Underscores a more complete understanding of the process of grief.

Provides appropriate, teachable skills that enable participants to confidently come alongside one who grieves in a life-enhancing way.

Reduces burnout among professional caregivers by equipping them with enhanced skills and confidence in their encounters with those who grieve.

Creates a network of caring professionals in your area of influence including medical professionals, counselors, senior living centers, schools, and faith communities.
What do professionals say?
"The Voices of Grief film engages the audience in an experience. The many faces, shapes, and sizes of grief are presented in the voices of those who have grieved and those whose professional roles include bearing witness with the grieving. The audience is drawn into the experience, to use it as each needs and wishes. The film evokes meaningful, deep experiences in diverse audiences."
- Dr. Sara Qualls, Director of the University of Colorado Aging Center and Gerontology Center.
"This film is a great way to share the importance of grief and mourning, ways to companion one another on the grief journey and the benefits of rituals and ceremonies – all offered in an authentic and supportive way."
- Jackie Hook, Celebrant, Koch Funeral Home
Donate via Credit Card or eCheck
Voices of Grief FAQ
Is my donation tax deductible?
Yes, we are a fiscally sponsored project of From The Heart Productions, which is a public 501c3 organization recognized by the IRS. Your donation is tax-deductible to the fullest extent permissible by law.
WeDidIt FAQ
Is my donation and credit card info secure?
Yes, the security and confidentiality of your information is our highest priority. We will not sell, trade or share your personal information with anyone else, nor send donor mailings on behalf of other organizations, and we will only share personal information if you have given us specific permission to do so.
How do I know that my donation was made successfully?
You will receive an emailed receipt immediately after your donation is submitted and your credit card is processed. Your donation will also show up on your bank or card statement within 1-3 business days.
Do I get a receipt?
Yes, a receipt is sent to your email inbox once your donation is processed. Please be sure to keep a copy of your receipt for tax purposes. If you select a recurring donation, you will be sent an individual receipt each period when your donation is processed.
Is my donation private?
We will not share or sell a donor's personal information with anyone else, nor send donor mailings on behalf of other organizations.